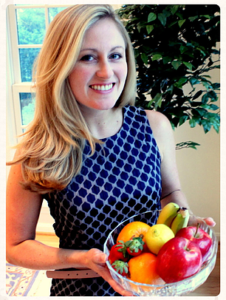 Anne Mauney is a northern Virginia Registered Dietitian (RD) Nutritionist with a Masters of Public Health in Nutrition from the University of North Carolina at Chapel Hill. Since starting her own business in early 2013, Anne has worked to provide life changing one-on-one nutrition coaching services, dynamic group seminars, and expert nutrition advice in the media. She also taught the Basic Nutrition course to undergraduates at The George Washington University in spring 2014.
Anne works with clients using a method called Intuitive Eating, helping them to improve their relationships with and reduce stress about food. She believes in an "everything in moderation" approach and encourages clients to ditch the calorie counting and diet mentality and enjoy real, whole foods – and yes, that includes dessert!
Anne is also the owner and author of fANNEtastic food, a healthy lifestyle food and fitness blog that she started in 2009 as a way to motivate others to lead happier, healthier lives through nutrition and exercise. Over the years, Anne has encouraged her readers to try healthy twists on traditional recipes, to go running for the first time, to embrace yoga, and more. She aims to show readers that it doesn't have to be hard or complicated to be healthy – and in fact, it can even be fun! On her blog, you'll find simple healthy recipes, quick meal ideas, running training plans, health tips, and daily adventures.
Anne's nutrition and fitness advice, health tips, and delicious recipes have been featured in dozens of national publications, including The Washington Post, The Huffington Post, Health, Glamour, SHAPE, Fitness Magazine, Self, and Woman's Day. In December 2012, Runner's World magazine listed Anne as a "running foodie" to follow on Twitter. She was also on Greatist's list of "60 Must-Read Health, Fitness, and Happiness Blogs" for 2013, 2014, and 2015 and on Washingtonian magazine's blog list of "9 DC Fitness Bloggers To Read Now." In addition, Anne has worked with many national brands and companies through her blog, including Stonyfield, McCormick, Reebok, Sabra, Almond Breeze, Brooks, Asics, Chobani, LivingSocial, Attune Foods, LARABAR, Quaker, LA Boxing, and more. Prior to becoming a dietitian, Anne spent 5 years working in Washington D.C. area in public relations, communications, and writing/editing. In 2009, she followed her passion for nutrition and wellness and returned to graduate school to become an RD.